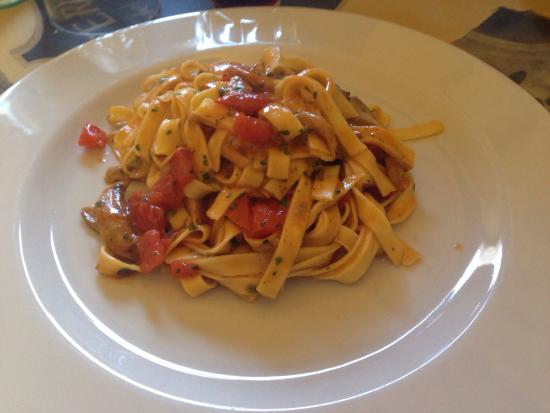 An old fashioned Italian Restaurant in Plainfield called Barolo Ristorante, offers a wide variety of authentic Italian food and presents a lengthy page of specials for the night. The menu design is very simple showcases a guide for restaurant goers to locate (and eat) delicious food.
My waitress for the night took around five minutes to tend to me, but this was right after the restaurant had a rush of people. The hostess went out of her way to apologize for the minor delay. I didn't mind waiting, though the staff of the restaurant clearly admires their customers and service.
For my appetizer, I ordered Maryland Blue Crab Cakes that was served with a sun-dried tomato and smoked apple mustard sauce. Though the sauce looked more for decoration, the limited quantity was all I needed.  It held a very sweet flavor with the tart apple complimenting it perfectly. The crab tasted outstanding, it was breaded perfectly and packed a crunch. I highly recommend it to someone who isn't big into sea food; that dish on its own will change them.
I decided to go with the Fettuccine Piemontesi for my main course.  The dish consists of a rich variety of mushrooms and herbs, topped off with tenderloin tips and a thick Roma tomato sauce, served on a bed of homemade fettucine. The bowl it was served in had a deep center, so there was a lot to eat. The noodles were "al dente", meaning firm to the tooth, which is how I like them. The Roma sauce used wasn't too sweet, which I liked, but was sweet enough to give it an authentic taste.
What stood out most to me was the interior of the restaurant. The lights were dimmed but it was just enough to give the interior a warming vibrancy. It gave the restaurant this feeling of ambience. The room reminded me of the dining hall in the movie The Shining: a room full of dark reds with complex ceiling designs that I simply admired. The architecture of the place was mesmerizing, and I couldn't help but admire its beauty.
I highly recommend going to Barolo Ristorante, especially with other people. The trip was relatively quick and the directions weren't complicated, but the restaurant was pricey. Whether it's taking your parents out, or impressing your date, Barolo Ristorante located off 2765 Black Road, is the place to go.