Olympic contenders undergo vigorous routines for annual winter competition
Hang on for a minute...we're trying to find some more stories you might like.
People all across the world, each and every day, prepare for an event that only happens every four years: the Olympics.
For many, it starts with the training. Milo Swain, trainer of 2016 Rio Olympic gold medalist swimmer Kevin Cordes, said the two biggest parts of training determined athletes is communication and trust.
"You have to let them have their space, and know that at this point, you don't need to rewrite the book, but be consistent," Swain said. "We want to win, but it's all about doing the right work."
The athletes not only need to be working out, but also practice as much as they can leading up to the Olympics.
"When I head to the gym I first get my mind in the right mindset to get ready for work and get things done," 5-time world champion, 2014 Sochi Olympic silver medalist, and 2018 PyeongChang gold medalist in women's ice hockey, Brianna Decker said. "Usually have about a 20-minute warmup and then get into supersets of approximately 3 different boxes and followed by a good cool down roll out."
Heading into the Olympics, Decker was training six days a week with an hour and a half each day on the ice and two hours in the weight room. Kevin Cordes was also training an average of six days a week adding up to around a total of twenty-four hours a week in the gym and pool.
However, skiers had to find a different way to train on the hill in PyeongChang without physically being there. The answer: virtual reality.
Virtual reality will allow U.S. skiers to race the hill numerous times a day versus their competitors racing the hill less than half a dozen times in practice rounds.
Training is only part of the battle. Another includes maintaining a healthy diet.
Gary Morely of CNN stated in August of 2012, "Swimming superstar Michael Phelps once claimed he scoffed up to 12,000 calories a day." That's almost five times the amount a man should eat a day.
Phelps isn't the only one to eat an excessive amount of food in preparation. Sprinting star, Yohan Blake, claims to eat 16 bananas every day to keep his potassium levels up. Meanwhile a Japanese athlete ate fifty pieces of sushi after training and a weightlifter would drink milk coming only from a cow that has just given birth (CNN).
Most Olympic athletes prefer their own ways of eating. Kevin Cordes normally eats healthy and not excessive amounts of one food. In the mornings he has eggs, bacon, almond butter toast and a protein shake. Around lunch-time he eats a sandwich with avocado, cottage cheese and a green smoothie, followed up with chicken or steak with vegetables for dinner.
Upon arriving to the games, sometimes the free Olympic Dining hall with all you can eat foods from around the world can tempt athletes, especially the younger ones.
"There's a stand that gives [JUMPED]  you unlimited McDonalds, there's machines that pump out unlimited soft drinks," Sports scientist, Jess Corones said.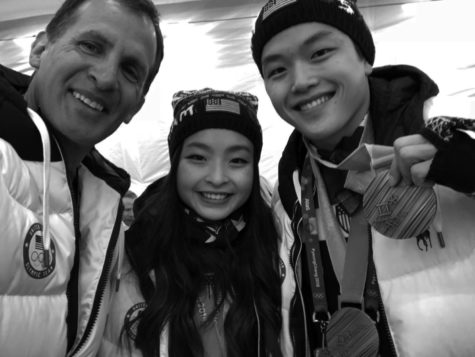 "That's exciting and it can be a distraction for them. They think 'Oh this is so cool,' and they just run to it – but you have to remind them that it'll still be there when they've finished competing and that until they've finished competing they've got to stay on their normal routine," Corones added.
Athletes also need to mentally prepare for competing.
"The mental game is 100% of the game. It's the hardest thing to practice and work at but it's the strongest part of most elite athlete's game. Focusing on your mental preparation requires lots of visualization and imagery in all areas of your game," Decker said.
Being in a different country for an extended period of time away from home also requires preparation.
"It can be difficult for some people, but (I) absolutely enjoy it, no offense to my family and friends back home in the USA. I think most of us get caught up in the moment of being with each other and being at the greatest world sporting event," Decker said.
Former NHL player, 2014 Sochi Olympic assistant men's ice hockey coach and 2018 PeyongChang Olympic head men's ice hockey coach, Tony Granato, feels the players and athletes need to soak in the cultures and have a good experience.
"I don't think you look at it as being in a different country. I think you look at it as an opportunity to do something special together as a group and you don't really focus on the fact on where it is. You focus on the fact that it's a great opportunity to represent your country and to have a chance to win a medal," said Granato.
On February 22, 2018, at the winter Olympics in PeyongChang South Korea, Brianna Decker helped lead team USA to their first Olympic gold medal in twenty years.