Boys baseball determined to score wins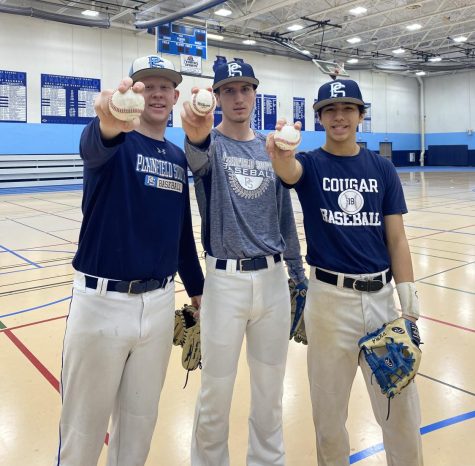 Every year the baseball team is eager to get on the field and battle their way to conference, and this season their determination continues.
Coach Phillip Bodine, who has been coaching for 32 years, has been the head coach at South for 14. He says the team is disciplined and notes that getting the boys adjusted won't be an issue. Bodine also adds with confidence that the team will be very good by the end of the year.
"We're young and contested. We have a lot of guys that are going on the field and [battling] for a starting position," Bodine said.
Conditioning the players is always the number one priority, according to Bodine. This season the team will be working with Bill Krejci (Bodine's former coach from Southwestern Community College in Iowa) and the boys are excited. The team will be hearing criticism from a different perspective.
"We go to clinics [and] hear different speakers," said coach Bodine. The IHSBCA clinics inspire the boys and their motivation gets put into their practices. Last year the boys attended the national clinic in Chicago.
"We try to do defense about every other day. Some days we just do all team defense [or] all individual defense, so it varies by what day of the week it is," Bodine said.
Last year the team wasn't able to practice inside, but with the mask mandate now lifted, practices are returning to normal. According to Bodine, that's a great start to the season.
Quite a few top players are returning this year.
"Matt Kelliher is a kid that's coming back. He's going to be some of our better pitchers.  Zander Tubbs is a guy that played every game last year and he stands to play right field and hit in the middle of our line up," Bodine said,  adding that each player has their own qualities that make them excellent players.
The line up is still developing but Brendan Pasquale, a senior and the team's catcher, definitely makes it stronger. Pasquale started playing when he was around three years old.
"Me and my dad would go outside and play catch. Ever since then I fell in love with the game," Pasquale said.
Pasquale is able to tackle both defense and offense when needed to. He's working hard to win state but his main goal is bigger than that.
"I want to go to all conferences but that's secondary to my team's success. I'd rather have my team do good than me do good," Pasquale said.
Pasquale suffered an injury last year. Unfortunately, he popped his elbow but after rounds of surgeries, he had a healthy recovery.  But this doesn't stop him from making his final year his best. Pasquale's good sportsmanship may have to do with the team's culture.
"Our culture is that we compete pretty darn good by the end of the year. We've won a lot of these games over these 14 years. We've got a lot of kids[that] play division 1 baseball,"  Bodine said.
The boys expect this culture when playing. According to Bodine, it is up to the upperclassmen to pass this down to the young players.
"I hope and expect us to be contending for a regional championship at the end of the year and battle through to win the conference, and that's what we expect every year in winning 20 games. That's a goal we always have so that's what we'll continue to shoot for," Bodine said.
Last season, the boys record was 18-7 and they won the regional championship.  The boy's first game is on March 22 at Streator Township High School, and their first home game is on March 25.