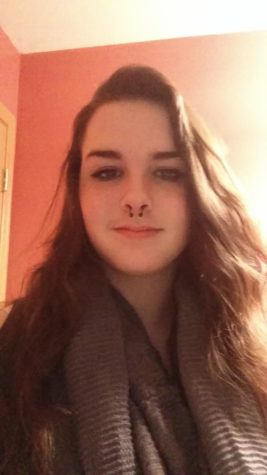 My name is Caitlin and I am the Page Design Editor for the school newspaper. My main priorities for this position are to write stories and design pages for the newspaper.
I decided to become the page design editor because I love the creative opportunities it gives me to design something on my own. Plus, I can create something new and different for every page.
I joined journalism because I have always enjoyed writing and I wanted a place to share my opinions. Also, I love how much teamwork goes into the paper and the friendships I have formed already.
Obviously, my interests include writing and reading. However, I also like playing video games and hanging out with my friends.
Journalism is a huge part of my life and I hope to write stories that people at this school can read and learn from.
Caitlin Deerwester, Page Design Editor
May 14, 2018

Maternal deaths in America

(Story)

May 14, 2018

Conspiracy Theory: Chemtrails The seventh installment of The Paw Print: Satire Edition

(Story)

May 14, 2018

Social Media user data is stolen, collected, and used

(Story)

May 14, 2018

Q&A: Boys volleyball coach talks progress

(Story)

Mar 01, 2018

Olympic trainers are complicit in abuse

(Story)

Feb 06, 2018

Call your senator, net neutrality needs citizen support to stay alive

(Story)

Feb 06, 2018

Conspiracy Theory: The Mandela Effect

(Story)

Dec 07, 2017

Girls bowling creates friendly environment, maintains a persistence in improving consistency

(Story)

Dec 07, 2017

How politically correct speech helps politics

(Story)

Dec 07, 2017

The daughters of the confederacy

(Story)

Nov 01, 2017

Conspiracy Theory: The Flat Earth

(Story)

Oct 05, 2017

Bass Fishing team participates in tournament with veterans

(Story)

Sep 27, 2017

Vouchers take money away from public schools

(Story)

Sep 27, 2017

Paws or Claws: movie remakes aren't relevant

(Story)

Nov 15, 2016

South prepares students for spring SAT

(Story)