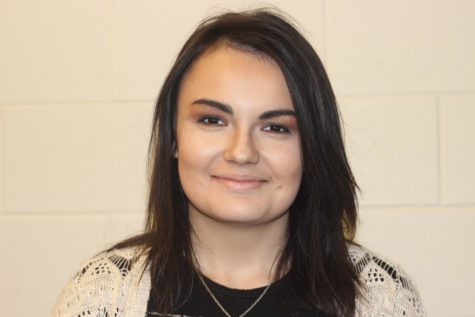 I'm Bella Paredes and I am the Editor-in-Chief of the Plainfield South Paw Print. I joined Journalism during my sophomore year, after 7 weeks of summer school that I took just so I would be able to fit this class into my schedule.
The summer before my junior year I attended a two-week journalism program at Eastern Illinois University and when I returned to school I became the editor-in-chief of the newspaper. In my junior year, the team went to sectionals and I placed in newspaper design, which resulted in me going to state, along with six other staff members.
During this past summer, I spent five weeks at Northwestern University studying journalism with 80 other students from around the world. I return to South this year as the editor-in-chief and hope to continue to make the Paw Print a great publication.
Outside of journalism, I am participating in an array of after-school activities, including Model UN, student council, crew, NHS, and Spanish Honors Society.
Isabella Paredes, Editor-in-Chief
May 14, 2018

Senior Goodbyes: Isabella Paredes

(Story)

Mar 01, 2018

Welcome to the world of Wakanda: Black Panthers makes over 700k so far

(Story)

Feb 06, 2018

2017: A year rooted in social change

(Story)

Feb 06, 2018

Hallway TVs acquired by South to help increase communication between administration, students

(Story)

Jan 29, 2018

Slave trade in Libya sparks international protest to end slavery in developing countries

(Story)

Dec 07, 2017

Trivia Club begins season

(Story)

Dec 06, 2017

Senior Class President ignites energy among student population

(Story)

Dec 06, 2017

South's fall play performers showcase twentieth century suspenseful comedy

(Story)

Sep 01, 2017

Lawmakers social consequences harm transgender rights

(Story)

May 18, 2017
Mar 22, 2017

Superintendent's contract extends, he continues to impact students in district

(Story)

Oct 12, 2016

Advisors reveal behind the scenes preparation for homecoming week

(Story)