Student of the Month: Kimani Tillman
Not many people can create masterpieces and also have time to balance school work but senior Kimani Tillman overcame such an obstacle. Tillman recently received honors at the Illinois High School art competition and Exhibition held in the University of St. Francis for the artwork named "Janelle Monae." She also obtained a honorable mention in mixed media at the prestigious Scholastic Art and Writing Awards this year
Some of her drawings take hours to be fully completed. Then, as most students, homework and studying for upcoming exams adds to her priorities.
"I always set a schedule; I will spend four hours a day drawing then after that I'll balance my time with homework and studying," said Tillman.
Like most famous artists, Tillman wishes to have a message in her artwork that will give her audience a mixture of emotions and thoughts.
"I like to give my art a voice, and I will put all of my thoughts that come from my head on to the paper. I always want people to look at my artwork not as just art but an emotional message that people can see and understand." Tillman said.
Tillman also enjoys many other activities, constantly trying to put her own twist on things.
"Another hobby that I like to do is fashion design because no two pieces are the same because everyone has their own way of crafting things," said Tillman
Tillman fills her time at South for now, but her hard work makes her appreciate the end goal.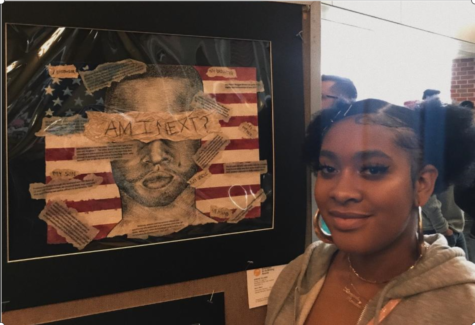 "Senior year is by far the easiest year I had at South and this school year is going by fast. I can't wait in till graduation," said Tillman.