The magic of Madrigals
Hang on for a minute...we're trying to find some more stories you might like.
Madrigal programs exist all throughout the country, including schools, churches, and park districts who hold annual dinners around Christmas to celebrate the old madrigal style of music from the late 16 and early 17 century. This year South held its 16th annual madrigals dinner, complete with singing, comedy, and royal court.
While certain key lines stay the same, such as the king's opening speech, each year the dinner contains a new storyline. There are multitudes to choose from online, that are written by professional playwrights.
"We start [rehearsing] at the beginning of summer and go all the way up to the show," Alex Olson, senior, said. He is not new to this rigorous schedule, having been in Madrigal since his freshman year, usually playing the jester. This year however he has the honor of the king.
"It's very rare there is freshman in [madrigals]. Not to toot my own horn but statistically speaking there aren't a lot of freshman," Olson said.
This year summer rehearsing went differently. The old choir director, Megan Getts stepped back to take care of her new baby at the end of the year.
"Everything that happened over the summer, that was all them, on their own," Stephanie Lanute, the new director, said.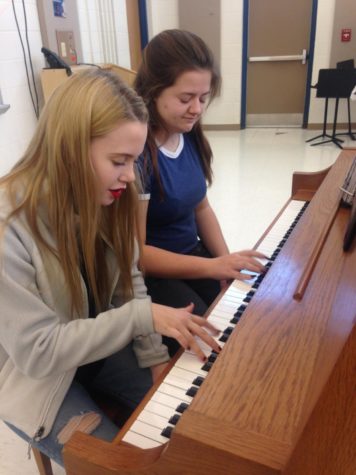 Photo Courtesy of Dani Gonzalez
The student led summer rehearsals helped them get ahead, according to Lanute. Olson and Emily Rose (the queen), found it challenging to step up into their roles as leaders but ultimately found a way to keep the group on track enough to create a strong foundation in the music.
"Now that I'm king, I have to lead. That often means leading by example," Olson said.
Lanute found the transition into the group was not hard, especially because they already came in knowing a lot of the music. As a madrigal veteran, Lanute brought fresh ideas to the group and small tweaks to the performance.
"Obviously sets change, obviously scripts change, but family wise and the way we work together nothing has seriously changed," Rose said. Lanute also experiences something new. Madrigals goes to a special festival every year where they can get feedback on their performance.
"[The festivals] are bittersweet because they are our last hurrah before the madrigals dinner happens," Rose said, "It's really nice to the feedback on the music going into the madrigals dinner."
The Madrigals performed on Dec. 1, 2, and 3.