Track and field team shares hopes for season
Jamiah Sanders, Alicja Stec, Aidan Evans, and Cody Kopanski
February 28, 2019
The track and field teams discuss expectations for the upcoming season as well as their preparation methods, hoping to maintain their drive for success. Through daily practices and trainings, they strive to reappear at state.
Runners go through rigorous training to stay motivated during the off season.
"Every practice is designed to have us at our best at the end of the season," said Janeen Carlberg, head coach of girl's track.
A variety of exercises are implemented in order to improve prior weaknesses. The team values being able to work hard to achieve their goals through a variety of workouts.
"Our team does a mixture of speed workouts and long runs to prepare for our meets," said runner Cassidy Martin, senior.
Training is necessary to reach the teams goals; however, moral support and motivation is also key to doing well this season.
"Everything is always focused around supporting each other and aiming to win," said Kennedy Branch, senior and current track runner.
Branch was one of several athletes who made it to state last season. Although all the athletes work hard, Branch is certain that there is one athlete in particular that is bound to success.
"This season I see a lot of potential from the senior class, particularly, Timmy Wade. He came just short of his goals last years and he is here on a mission," Branch said.
The fate is not set for the team, but they are determined to try their best and continue working hard in order to become conference champions.
"We want to get a handful of our athletes to the finals and it'd be nice to make state champions as well," said Jason Crowe, head boys track and field coach.
Last season proved to be successful for the team and the players had memorable moments that they were able to share with their fellow athletes.
"Last track season, a highlight would be the freshman/sophomore 4×800 setting an indoor conference record. It was me, Cody Gleim, Adrian Florez, and Niko Shultz," said Jake Schoo, junior and current track runner.
There is no denying that both track and field teams work rigorously every day, striving for state champions. For now, they wish for a successful season once again.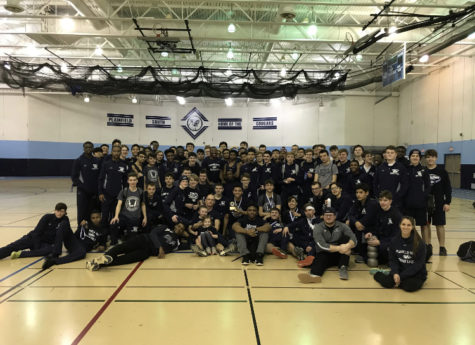 Photo Courtesy of Jason Crowe
Boys track and team field team pose for a picture after their first meet on Feb. 16.