Varsity Cheer refines routine, strengthens bonds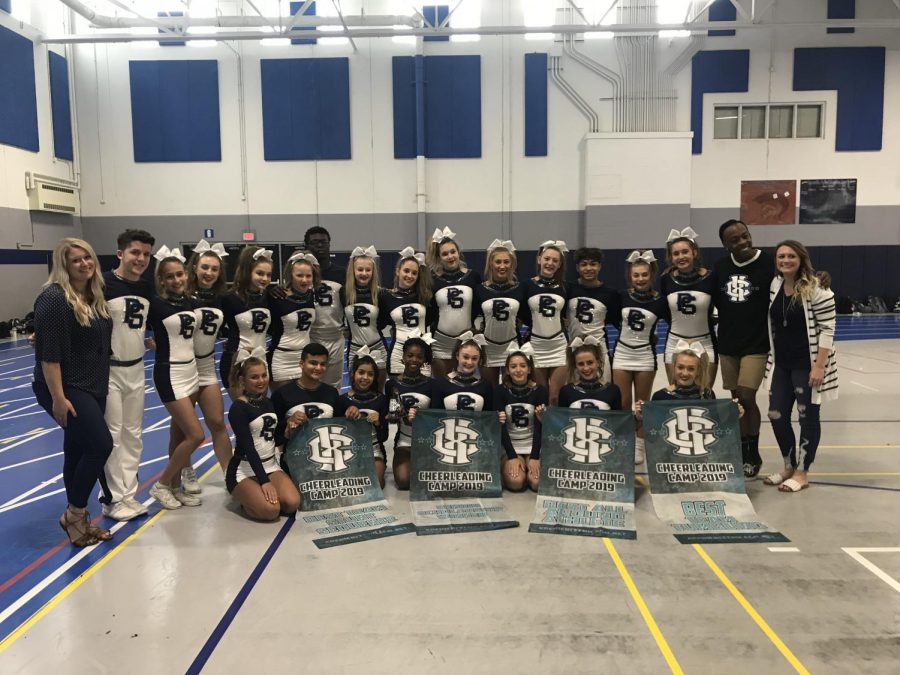 After a highly accomplished season last year, in which the team went nearly undefeated and took second place at State, Plainfield South Varsity Cheer (PSVC) has made the necessary preparations to ensure that this year yields success as well.
"It really felt like our season never ended. We started open gyms in April and had our first practice in June," Bree Slaby, senior, said.
This season, the team will contend with their top rivals Belvidere North High School and South Elgin High School. In order to face this challenge, the team has concentrated on improving their skills so they will reach their fullest potential.
"I always tell the kids we can't control what other teams do; we can only control us," Brooke Twohill, head cheer coach, said. "So, we just put our focus on us and what we can do going out to do our best."
This requires all the team's focus and strength, but juniors Mazzy True and Genevieve Henn believe the payoff is worth the extra exertion. In their words, "[Our coaches] know that we're capable of so much and they push us to be the best we can."
According to Henn, PSVC "[stands] out from other teams and many people look up to us," which is why she feels it is crucial that the squad always gives their strongest performance.
In a similar vein, junior Tenley Brown claimed that accountability is a deciding factor in the quality of the team's output.
"We have a saying, 'hold the rope,' which means following the expectations and bringing our teammates up when they're down. I feel that overall we could do a better job of holding the rope," Brown said.
Practices begin with a run, warm-ups, stunts, and tumbling. The proceeding agenda differs day to day, each focusing on a different set of skills in need of attention. During these meets, teammates rely heavily on mutual support and motivation. According to Slaby, they raise each other's spirits by maintaining a "super bubbly, super excited," and "kind of rambunctious" energy.
"The team is very good at supporting each other. Whether it's for tumbling or stunts, we're always cheering each other on, and it always lifts the mood during practice," Brown said.
Seniors Aubry Mikel, Brianna Trenor, Lilly Goorsky, Cadey Chartrand, Bree Slaby, and Jordan Lipowski best embody leadership on the team according to the head coach. Twohill said they are some of her more "experienced" and "mature" athletes, so they help their fellow teammates understand the routine and keep practices productive.
The routine faced many revisions throughout football season. Brown feels that the team has been "versatile" in lieu of these changes and has shaped up the routine well enough in time for the first competition, which will take place Dec. 15.
"Our kids work really hard and I think that if we can stay on the same track as our work ethic, hopefully good things will happen," Twohill said.