PSHS teacher passionate about physics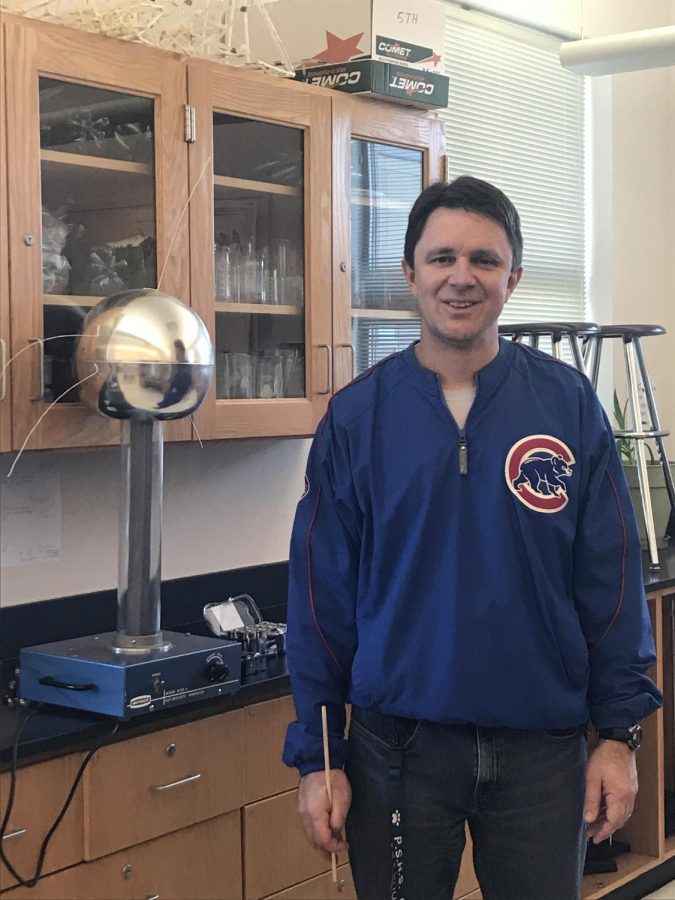 Physics is an offshoot of Ben Wittenkeller's passion for science, and as one of South's physics teachers, he hopes his classes offer critical thinking for students.
"I hope they have the ability to logically understand stuff, to be able to look at some data and understand if a relationship actually exists. Applying that to real life, it's looking at commercials on television and saying critically 'no, there's no way, you don't have the data to support that,'" Wittenkeller said.
Ben Roehrig, a senior currently taking Wittenkeller's AP Physics 2 class, believes the classroom is laid back and Wittenkeller is a phenomenal teacher.
"He is a very cool teacher [and the classroom is] very chill," Roehrig said.
Brendan Hills, a junior in Wittenkeller's Honors Physics class, believes material is explained well in class and it is always interesting.
"He explains stuff really well in class, [and] he also has good stories he normally tells," Hills said.
Wittenkeller took a liking to astronomy since he was young and he looks forward to teaching astrophysics among other lessons in the classroom.
"I always look forward to electricity and magnetism. I like what we're studying right now: outer space and astrophysics," Wittenkeller said.
Although Wittenkeller enjoys many units in his classes, there are a few he dislikes.
"Thermodynamics [is not] my cup of tea, but I understand it. Waves I don't like as much," Wittenkeller said.
Wittenkeller may not enjoy various areas of physics, but Nate Brownlee, a junior in Wittenkeller's Honors Physics class, thinks his passion is perpetually present.
"It is clear that [Mr. Wittenkeller] is passionate on the topic of physics as he is constantly showing us demonstrations and new things," Brownlee said. "He is so fascinated with the world and he wants us to learn as he has."
Wittenkeller is also amused by the creation of medicine and ways of combating diseases.
"I like ecology, sometimes I'm interested in physiology, not as much as anatomy, and [also] epidemiology," Wittenkeller said.
Outside of school, Wittenkeller has various hobbies throughout the seasons.
"I ski in the winter as much as I can, and I ride mountain bikes. It's much more intense than you probably believe," Wittenkeller said.
Many people have support figures in their lives whether it is parents, friends, or household pets. Wittenkeller believes his youngest son is currently his anchor in life right now.
"My son is my youngest child and for some reason we see eye-to-eye. We communicate with each other easily, and he's funny. We have little jokes that we get and nobody else understands," Wittenkeller said.
Wittenkeller also said staff and administration have treated him well and really put an effort into what they're doing.
"I like all the staff. The teachers I work with here are fantastic, and they all do a wonderful job. They put a lot of effort into what they're doing behind the scenes. It's amazing, and the administration has been so supportive and helpful with me," Wittenkeller said.
Megan Majka, a physics teacher, recognizes Wittenkeller's scientific and creative prowess.
"[Mr. Wittenkeller] is incredibly knowledgeable in Physics and he's really good at building stuff I would never think about," Majka said.
There are many astrophysicists in history and the present world. When asked for his favorite one, Wittenkeller chose carefully.
"I don't know if I could have a favorite. Most people would say it has to be between Newton and Einstein, and there's good arguments for that, [but] I kind of like Galileo and Archimedes," Wittenkeller said.
Wittenkeller added on, however, between Galileo and Archimedes, he'd have a conversation with Archimedes.