17 year old country singer Alex Miller expected to release album this fall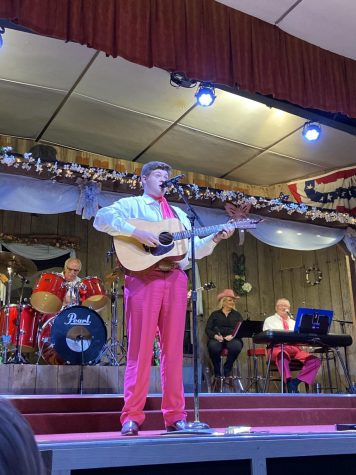 Alex Miller caught country music lovers' attention when he auditioned on American Idol in February, performing his original song, "I'm over You so Get over Me." Miller left the celebrity judges stunned including country singer Luke Bryan who said "Thank you Jesus!" after the song ended. 
Seventeen year old Miller was born and raised in Garrard County, Kentucky and has performed at local shows since he was seven years old before auditioning for American Idol. Known for posting covers and original songs on his YouTube channel, the majority of his covers are of classic country artists such as Merle Haggard and Hank Williams. 
Miller left American Idol at the end of March. Even after being eliminated in the Showstoppers Round, it was evident that his music career was far from over when he was invited by Bryan to perform at the Grand Ole Opry, the stage that has hosted country greats. 
Performing at the Opry has been a dream of Miller's since he was little, and although the performance may be nerve wracking for any performer, he is confident and excited.
"I'll play the Grand Ole Opry like I play every other show I've ever done," Miller said. 
After leaving American Idol, Miller released a studio version of his audition song. Written about an ex-girlfriend during his fifth grade science class, the song captures Miller's feelings about his ex coming back to him with the chorus saying "Cause I'm over you, so get over me." 
Miller's style of country music takes a more traditional route, and country music fans are excited to see his career progress and look forward to hearing more from him and his classic country sound.  
"It's cool because he's bringing the older, more classic version of country back," said Minooka Community High School freshman, Joey O'Dell.
"Classic country is what I grew up with and hearing younger voices like Alex Miller really makes me think that the original country singers have not been forgotten," said Plainfield Central junior, Garrett Sigler. "I really like how passionate and serious Alex Miller is [about country music]" he added. 
Miller's life as a high school student has been anything but average since his national debut. He has accrued fans from across the country.
"There's no true greater honor and feeling than people recognizing you and saying they like what you're doing," he said. "That's definitely something I never thought I'd hear from people."
Miller currently performs shows throughout Kentucky and is in the process of writing songs and recording an album, expected to be released this fall. 
Although his life has changed dramatically following his Idol audition, he still maintains hobbies that many high schoolers share, such as fishing and hunting. Additionally, he has been an active member of Garrard County's Future Farmers of America (FFA) chapter throughout high school including serving as vice president. 
This upcoming August, Miller will be opening for Josh Turner at the Kentucky State Fair in Louisville and says he is looking forward to it. Miller will have the opportunity to open for Hank Williams Jr. at the Wisconsin State Fair in Milwaukee in August.
"I'm a huge fan of him [Williams Jr.] and his dad of course," he said.  "And getting to play for Hank Jr. is truly an honor," he added. 
Miller encourages other high schoolers to pursue a passion of theirs as well.  
"Don't be afraid to go for it [pursuing a passion]. If that's what you want to do and you know in your heart and in your mind, then do it," he said.