Faraj wishes to spread cheer all year to his students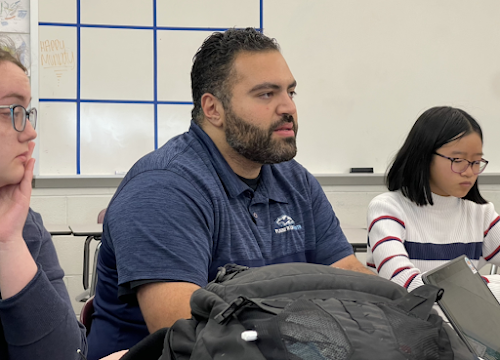 In addition to balancing coaching girl's JV tennis, boy's freshman volleyball, and girl's bowling along with leading the junior student council, social studies teacher Ronnie Faraj hopes to brighten his student's days.
Faraj coaches throughout the entire school year and is also on the school improvement committee. Within the School Improvement committee, he is a part of the Culture and Climate where puts a spotlight on the students and staff, plans fun events, and pushes for fun events in school.
"Our goal is to promote the school environment, and make Plainfield South a great school for both students and staff," Faraj claimed. Although Faraj didn't originally want to become a teacher, he discovered that he
"I got into teaching because I actually wanted to be a lawyer at one point in my life. I was going to go to law school, had the LSAT completed, and I realized I am funny and I like to have fun. You can't be a lawyer who is cracking up all the time, so I decided how about I teach government? Being a teacher was the kind of road that I chose,"  Faraj said.
His love of interacting with others and spreading positivity as a teacher is what inspired him to assist in extracurricular activities. List here what extracurricular activities he does (go into detail, highlighting each one…coach of girls tennis, coach of boys volleyball, score keeper for girls bowling, student council. When asked how he manages all of these extra activities, Faraj responded, "At the end of the day, I remind myself why I do this in the first place. If I can make school fun, if I can help them out with cool ideas, kids are more inclined to come to school. It's not easy, but it's doable."
Faraj's hard work and dedication definitely shows, and his students can attest to how nice and considerate of a teacher both in school and out of school he is.
"I think he is very nice, energetic, and is a nice guy overall," said Mason Deacon, student of Faraj.
Many wonder why Mr. Faraj would put in so much extra time to help the students, in which he replied, "I don't get extra money; I do it for you guys. So just seeing the excitement, seeing all the photos, I run the Cougar Culture Instagram. That's me! So I post all those cool photos of you guys, I mean this is to highlight you guys in your four years of high school." Faraj said.
Faraj is excited for students to participate in the Winter Formal that is officially happening February 4th.