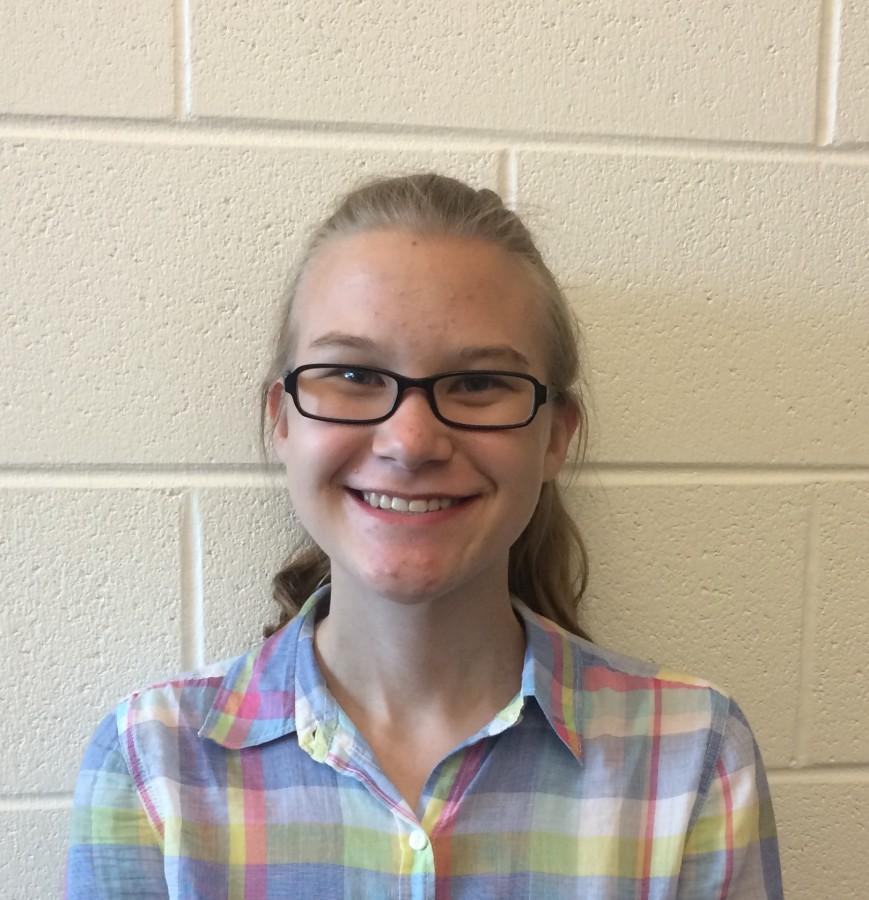 Maddy Wheaton, senior at Plainfield South High School, is the co-editor-in-chief of the Paw Print. According to Wheaton, Journalism is something she wouldn't want to do professionally but something she could possibly do in college.
"Right now, the only college I'm really looking into is JJC," said Wheaton. Getting her general education classes and experimenting with other interests was the explanation Wheaton gave on her interest in JJC. For Wheaton, Journalism has helped more than her writing skills.
"I think it's kind of helped me break out of that shell of being quiet," Wheaton said. According to Wheaton, being editor-in-chief has helped her take more responsibility and become a leader. She explained that Journalism has helped her take judgement from others and become a better writer.  Journalism has also played a major role in introducing Wheaton to new people.
"You spend a lot of time together, so you really get to know people, on a deeper level as well. At the end of the day we all love and care about this paper," said Wheaton.  Wheaton said that all of the editors do things outside of Journalism together as well.
However, after working with the same people for hours on end, things can become tense. According to Wheaton, the editors have moments where they get frustrated with each other but they put their differences aside to produce the best paper possible.
"She's a good leader and a good person to work with," said Joseph Crump, who works on the paper alongside Wheaton. Crump said that as editor-in-chief Wheaton is doing very well and is taking it in stride.  According to Wheaton, being in Journalism is a lot of work but she is proud of what she does.
Wheaton's favorite story includes the Pom story that was published even though it was her first individual story and also got submitted to NISPA.
"The fact that they chose that story because it meant they liked what I did. I put that much work into it and it's getting recognized in a sense," Wheaton said. According to Wheaton, the criticism she receives isn't a big deal because it makes her want to prove them wrong.
On the topic of inspirations Wheaton said that nobody in specific inspires her.
"It's a fun challenge. You learn skills that you will use in college even and if you want to push yourself into doing that then it's a good class to take," said Wheaton.
Maddy Wheaton, Co-Editor in Chief
Mar 22, 2016

2016 Election season brings great discussions to hallways, classrooms

(Story)

Feb 08, 2016

Poms team features Disney routine

(Story)

Dec 14, 2015

South students, staff help families in need

(Story)

Dec 14, 2015

Record High State Scholars for District 202

(Story)

Dec 11, 2015

Technology's role in students education in classroom

(Story)

Dec 02, 2015

A long time ago in a galaxy far far away…

(Story)

Dec 02, 2015

Colleges making students wait

(Story)

Sep 24, 2015

Meet the New College and Career Counselor

(Story)

Aug 28, 2015

PSHS AP Scholars Announced

(Story)

May 22, 2015

Chinese summer class at PNHS

(Story)

May 22, 2015

National Honor Society gains new members after induction

(Story)

Mar 25, 2015

Staff Spotlight: Mrs. Kamrowski

(Story)

Mar 25, 2015

South's newspaper goes online

(Story)

Mar 11, 2015

Staff Spotlight: Mrs. Erickson sets bar for future of America

(Story)