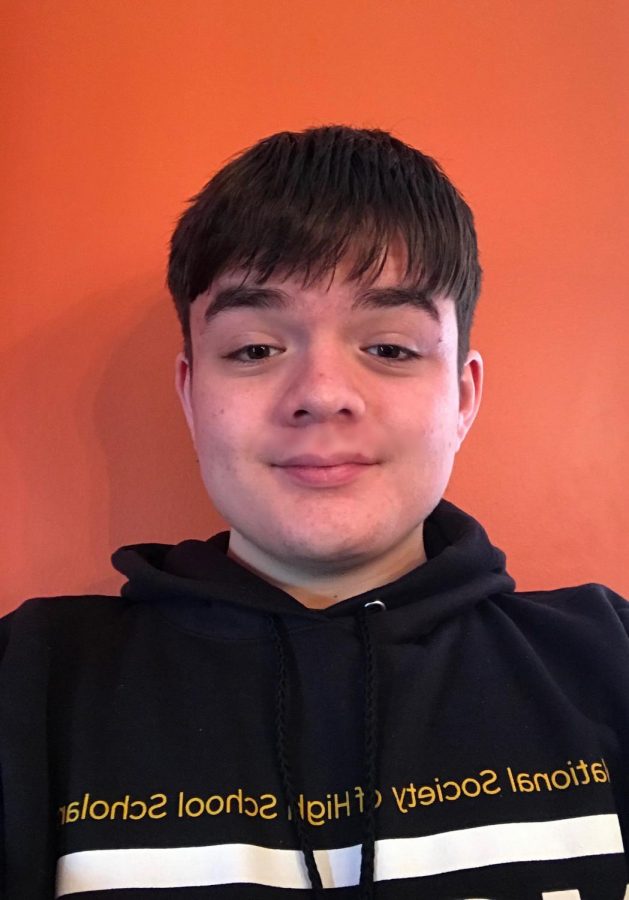 My name is Noah Maldonado and I'm the editor in chief of the Paw Print. Since sophomore year I've enjoyed being a student in the journalism curriculum and since junior year I've loved serving as an editor. The past few years of page design, writing articles, and interviewing many wonderful teachers, students, and staff were full of potent wonders.
Three years ago as a freshman picking classes, I desired to indulge in the freedom of press. Reporting facts and brand-spanking new stories were my ultimate goals and I'm delighted to say journalism and the Paw Print have done that and much more; they both gave me a second home where I could always feel welcome.
My time as an editor on the staff has covered most stories from news to sports, though I specialize more in news and the elements that follow. Either way, I'm glad to write any story.
Journalism has given me a career dilemma, for the experiences it has given convince me that writing and reporting are my future, but law and other sciences trail it. As of now, I'm quite uncertain as to what path lays before me.
I do, however, have many aspirations for this year and the next. This season of news is unlike any other, unmatched by the previous years I've spent in journalism. With the increased significance of social and political issues within America, I hope the Paw Print will be able to give each one the heavy spotlight they all deserve.
Noah Maldonado, Editor in chief
Nov 17, 2020

Cross country loves the number seven:

(Story)

Nov 02, 2020

Mental health during the COVID-19 pandemic

(Story)

Oct 02, 2020

Noah's View: The Presidential Debate

(Story)

Sep 28, 2020

Four IHSA fall sports continue, football delayed

(Story)

May 06, 2020

News Editor senior goodbye

(Story)

May 04, 2020

5/4/20 COVID-19 pandemic & Dow Jones recap

(Story)

May 02, 2020

5/2/20 COVID-19 pandemic recap

(Story)

May 01, 2020
Apr 30, 2020

4/30/20 COVID-19 pandemic & Dow Jones recap

(Story)

Apr 28, 2020

4/28/20 COVID-19 & Dow Jones recap

(Story)

Apr 26, 2020

4/26/20 COVID-19 pandemic recap

(Story)

Apr 25, 2020

4/25/20 COVID-19 pandemic recap

(Story)

Apr 23, 2020

4/23/20 COVID-19 pandemic & Dow Jones recap

(Story)

Apr 22, 2020

4/22/20 COVID-19 pandemic & Dow Jones recap

(Story)

Apr 21, 2020

4/21/20 COVID-19 pandemic & Dow Jones recap

(Story)

Apr 19, 2020

4/19/20 COVID-19 pandemic recap

(Story)

Apr 18, 2020

4/18/20 COVID-19 pandemic recap

(Story)

Apr 17, 2020

4/17/20 COVID-19 pandemic & Dow Jones recap

(Story)

Apr 16, 2020

4/16/20 COVID-19 pandemic & Dow Jones recap

(Story)

Apr 15, 2020

4/15/20 COVID-19 pandemic & Dow Jones recap

(Story)

Apr 14, 2020

4/14/20 COVID-19 pandemic & Dow Jones recap

(Story)

Apr 14, 2020

COVID-19 pandemic posed a threat, Illinoisans answered

(Story)

Apr 14, 2020

Resident Evil 3 remake & Project Resistance meet horror genre expectations

(Story)

Apr 12, 2020

4/12/20 COVID-19 pandemic recap

(Story)

Apr 11, 2020

4/11/20 COVID-19 pandemic recap

(Story)

Apr 10, 2020

4/10/20 COVID-19 pandemic recap

(Story)

Apr 09, 2020

4/9/20 COVID-19 pandemic & Dow Jones recap

(Story)

Apr 08, 2020

4/8/20 COVID-19 pandemic & Dow Jones recap

(Story)

Apr 07, 2020

4/7/20 COVID-19 pandemic & Dow Jones recap

(Story)

Apr 06, 2020

4/6/20 COVID-19 pandemic & Dow Jones recap

(Story)

Apr 05, 2020

4/5/20 COVID-19 pandemic recap

(Story)

Apr 04, 2020

4/4/20 COVID-19 pandemic recap

(Story)

Apr 03, 2020

4/3/20 COVID-19 pandemic & Dow Jones recap

(Story)

Apr 02, 2020

4/2/20 COVID-19 pandemic & Dow Jones recap

(Story)

Apr 01, 2020

4/1/20 COVID-19 pandemic & Dow Jones recap

(Story)

Mar 31, 2020

3/31/20 COVID-19 pandemic & Dow Jones recap

(Story)

Mar 30, 2020

3/30/20 COVID-19 pandemic & Dow Jones recap

(Story)

Mar 29, 2020

3/29/20 COVID-19 pandemic recap

(Story)

Mar 28, 2020

3/28/20 COVID-19 pandemic recap

(Story)

Mar 27, 2020

3/27/20 COVID-19 pandemic & Dow Jones recap

(Story)

Mar 26, 2020

3/26/20 COVID-19 pandemic & Dow Jones recap

(Story)

Mar 25, 2020

3/25/20 COVID-19 pandemic & Dow Jones recap

(Story)

Mar 24, 2020

3/24/20 COVID-19 pandemic & Dow Jones recap

(Story)

Mar 23, 2020

3/23/20 COVID-19 pandemic & Dow Jones recap

(Story)

Mar 22, 2020

3/22/20 COVID-19 pandemic recap

(Story)

Mar 21, 2020

3/21 /20 COVID-19 pandemic recap

(Story)

Mar 20, 2020

3/20/20 COVID-19 pandemic & Dow Jones recap

(Story)

Mar 19, 2020

3/19/20 COVID-19 pandemic & Dow Jones recap

(Story)

Mar 18, 2020

3/18/20 COVID-19 pandemic & Dow Jones recap

(Story)

Mar 17, 2020

3/17/20 COVID-19 pandemic & Dow Jones recap

(Story)

Mar 04, 2020

Plainfield library in search of new trustee

(Story)

Feb 05, 2020

South wrestling team takes East Division title

(Story)

Feb 05, 2020

PSHS teacher passionate about physics

(Story)

Dec 09, 2019

School report card released, chronic absenteeism high at South

(Story)

Nov 04, 2019
May 22, 2019

Dead by Daylight dominates horror gaming

(Story)

Feb 28, 2019

South staff writer reviews Illinois Governor's first two months in office debut

(Story)

Dec 05, 2018

Paws or Claws: Yes or No to JB P

(Story)

Dec 05, 2018

Meet your representative: Bill Foster

(Story)